TRAVELING EXHIBITS
The museum currently has 4 kinds of traveling exhibits which a school or any institution can borrow for a minimum period of one week.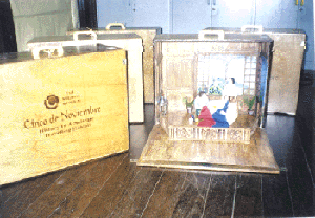 History in a Suitcase featuring the Cinco de Noviembre Revolution of Negros Occidental, Philippines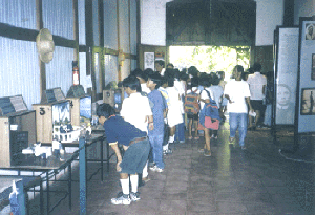 These dioramas are in a wooden suitcase making it very convenient to show in the towns and cities of Negros. This exhibit depicts the story of the first bloodless revolution in Nov. 5, 1898 that established the "Republica Cantonal de Negros" with Gen. Aniceto Lacson as President.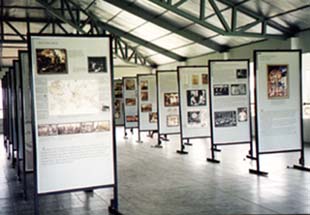 Since 1999, this exhibit has toured the Island of Negros, including other schools in the region as well as in Metro Manila.
Tilamsik Ng Liwanag Traveling Exhibit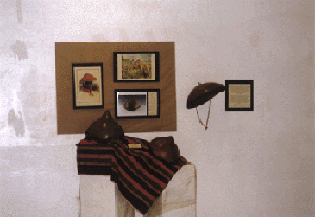 This exhibit is composed of 19 panels, 4 x 8 ft. each, showing various events in Philippine history. The panels depict the 1898 Revolution, the Malolos Republic, the American Period, the Commonwealth,the Japanese Occupation, and the Independent Republic, ending with the June 12 Centennial Celebration.

Salakot Traveling Exhibit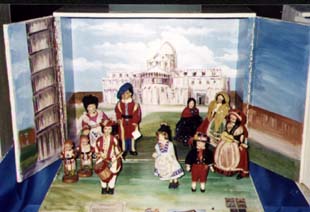 Why do we cover our heads? The head isdeemed the vessel of insight, character, andwell being. A hat protects the head, whileexpressing beauty and marking a personal gender, power or profession. This exhibit consists of Native Philippine Hats, that dates back more than 50 yrs. ago, from the collection of Don Rodrigo delos Reyes and photographs from the Ayala Museum.

The Global Village
"Sellos y Munecas"
This is a traveling exhibit is composed of two donations: the antique dolls by Mrs. Maity Holigores and the stamps by Mrs. Marilyn Maranon.33 countries are represented in 40 suitcases. The dioramas show figures in full costume with scenes of their own countries artfully painted in the background. Framed stamps on the corresponding country accompany the suitcase. Pull-out pages with more information are also supplied.
CONTACT US!
For more information on how to display these exhibits in your area, please contact The Negros Museum at tel. nos. (6334) 434-5552 or 433-4764 or email us at negmus@mozcom.com